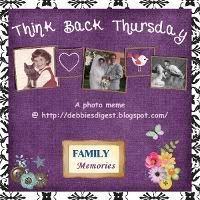 I haven't participated on the
Think Back Thursday
meme for a couple of months, what with the move. Last month Debbie the meme host did a feature on photo editing and I've never learned how to do that (or had any real desire) so I sat out as well. I'm back this week, though, and I certainly have pictures to share because the theme of this week is: Signs of Spring. I grab my camera at the first sign of spring every year so there won't be any trouble finding pictures that fit the theme!
Here goes!
You may see an additional theme to these first few.
First picnic of, I'm guessing, 2008 – The girlie looks to be about 2 1/2 here.
First picnic of 2010 – "Scruffy Dog" always came to beg when we were out that year and this picnic ended with a huge me chasing her to her house because she took Morgaine's teddy. Just days before we went to the cottage to give birth to the beautiful little fellow below.
Aww, I love a spring baby.
First picnic 2011 – see how babies make you busy? Nothing fancy here. Lacking the colour of out normal platters.
First picnic 2012 – I could use a day that warm right about now.
The children are begging, begging for our first picnic of the year here but we have a little ways to go before that happens, but there were some signs of spring out there today (this afternoon is the past, right?)
What's that? Bare ground and mud? Until yesterday there was no dirt to be found and then we had a major thaw and now, I think, we have spring.
Puddles and more (almost) bare ground!
Morgaine and Ruadhán had a wonderful mud fight last spring when Liam was away at spring camp. This may be a later spring picture and not a first sign of spring but there are no leaves on the trees and mud only seems to have this appeal the first few times of the year so I'm going with a sign of spring anyways!
I was going to post a bunch of photos of our trees/flowers in various stages of popping up, but I'm actually getting a wee bit tired from the two and a half hours we spent outside enjoying the first signs of spring.
I'll leave you with this quote that describes today well:
"It was one of those March days when the sun shines hot and the wind blows cold: when it is summer in the light, and winter in the shade."
― Charles Dickens, Great Expectations