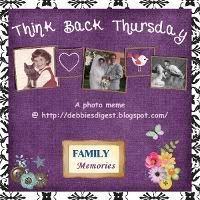 It's time for
Think Back Thursday
again and I am linking up over at Debbie's Digest, where we share photo memories each week.  Well, when the theme of the week is a colour you are bound to get a variety of photos and this week was no exception with the colour yellow. I didn't think I'd have very many, but in the end, I think I did pretty well in the end. I had fun looking over all the photos that I've taken over the last 4 years or so for this theme and I hope you will enjoy those that I've chosen to share. The kids loved looking back over photos with me this week!
Celebrating Liam's sixth birthday at the park. 
Different park. Same kid. A few years later.
Picnic at Grandma and Grandpa's campsite.
Dandelion
Pretty little flowers
Wee little one, just hours old.
Growing up, sporting a yellow AppleCheeks diaper.
Starting them young. Washing his own dishes.
Wanting to be like his big brother. Building with K'Nex already.
Hiding behind my yellow truck.