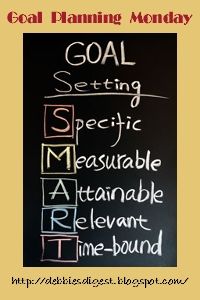 Oh, look at that! New buttons for Goal Planning Monday, where you can link up over at Debbie's Digest. I do hope that you will join me in setting smart goals this week and hop on over to Debbie's to link up. I know that she would love to have you and I am so thankful that she was able to take over for me. Let's show her some goal planning love this week. You know you have things to do….let's keep encouraging each other!
This week's goals:
1. Set up a crafting area where I can work uninterrupted (ha!) and where my supplies will not get  ruined by children that was to create too.
2. Work with the children to clean up their box house in the granny suite. I need to get that zone kid free again as it was my discombobulation area and now, because the cats got in and had a cat fight or two, there is fur a little bit everywhere and it is far from relaxing.
3. Do some pre-crafting for my blog post on Homeschool Horizons later this month. You'll want to check in and see how little craft supplies you need to successfully do art with your children.
4. Blog about our homeschooling area. It isn't quite set up, yet, but it is not bad and my vision is coming together nicely.
5. Dig one row of my garden and plant whatever squash like plants that survived. We'll likely plant a row of seeds every week or two through the next couple of months so that we have produce through the summer.