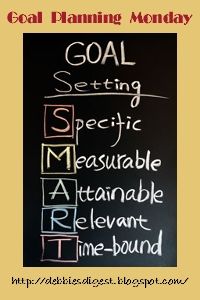 I'm hoping to get some things accomplished this week by taking part in Goal Planning Monday, now hosted at Debbie's Digest. I've been having a hard time staying motivated since the temperature has warmed up. I'm very much a winter time kind of girl and I find it hard to get anything accomplished over the summer. I figure that if I post some goals over here for the whole world to see I may be more motivated to completed them – heat and all.
So here goes:
1. Water my garden every morning. Yes, I've been a little neglectful. We don't have a hose hook up so I have to cart buckets of water from the house.
2. Continue to have Penny practice walking on a leash. I really wanted a walking buddy, but Penny really just wants to jump around and play when we get outside. We've gotten to the point that she is pretty good when we are walking away from the house, but as soon as we turn around she gets all excited and starts jumping all over the place and the walk home isn't near as fun.
3. Reorganize the homeschooling books. We received more books from a friend this week and some of my set up no longer works and on top of that we ended up having a bookshelf fatality this afternoon. Opps, but by mid afternoon the upstairs floor ended up looking like this
and not just in the reading room, but spread across the hallway and homeschooling area as well meaning children decided to "help", while Mum sat there wondering what she was going to do without the much needed book self. I managed to come up with a great idea (ha ha) and things are beginning to get organized again, but I need to complete redo the actually homeschooling shelf to divide material into even more subjects and categories.
4. Start a weekly binder for each of the 2 children. I want to make sure that we don't miss out on some of the good stuff we've been given. I think that they will need a little more Mommy direction for a while as we find out what of the new material works the best for us. I'm excited for it!
5. Drink water. I've been doing quite horribly with that and end up feeling dizzy and sick. I have a beautiful green water bottle and I hope to drink 3-4 bottles each day, especially if is gets hot and humid.
6. Blog three more times this week. I really do want to put a little more effort into getting more views as I expect to get some more reviews in the near future. It's also fun to share what we've been up to and I need to get back to that.
I hope that you'll join me over at Debbie's Digest and set some goals of your own.