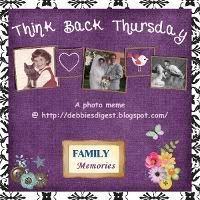 It's always so much fun, and sometimes emotional, to go back and choose photos for Debbie's, from
Debbie's Digest
, Think Back Thursday. This week's theme was the colour purple and it was a week bit of a challenge to come up with a variety of photos even though purple is one of my two favourite colours. I think I did a decent job in the end and I encourage you to
hop on over
if you have some photos featuring the colour purple that you would like to share!
Since it is so hot today, I thought I would start with a cheery winter scene to cool me down. This is the winter of 2011. We really didn't get any snow that year so this was the only opportunity the children had to make a snowman and it was melted by the next day! 
A purple party hat is a must for anyone's fifth birthday!
Wee girlie painting as much on her arm as on the paper.
I think she liked that shirt! Rocking out on the drums on Rockband! This was our favourite family activity for a long time. 
Watching Finding Nemo, feeling quite under the weather. 
 I think we were using Story of the World. For more purple pictures and to see what they were up to check out this link. Oh, the memories. Actually, there's a whole lot more to the story, so I'm sharing another picture as I see it wasn't mentioned in the post.
 They were actually counting the chestnuts they'd gathered when they thought that they were going to be in dire straights for the winter. Thank goodness that mammoth came along! They had a pretty good set up, though, didn't they? This is back in the day when we were able to have themes to our days (AKA before Ruadhan…….maybe one day soon…..he is nearing the age Morgaine is in this picture). 
 Speaking of Ruadhan – Umbilical ties that I braided for his homebirth.
Awe a series featuring the birth of above mentioned wee boy. Thank goodness Morgaine was wearing a purple dress so I could feature the birth. 
 Self portrait I just did for an art course I'm taking. Purple and green featured as they are my favourite colours. 
Flowers, because there must always be flowers!