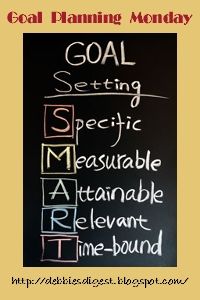 Well, I enjoyed taking part in Goal Planning Monday  last week and I think it helped me get some things accomplished, so I am back again! Be sure to check out Goal Planning Monday, now hosted at Debbie's Digest. First up is to see how well I actually did last week, so here goes:
1. Water my garden every morning. Done. Yes, I water my plants as needed and have been rewarded with more veggies. We'll be able to harvest so within the next week or two, I think.
2. Continue to have Penny practice walking on a leash. Done. Probably not a much as I should have, but she is getting there. She not ready to be my long distance walking buddy, though!
3. Reorganize the homeschooling books. Mostly done. I would have finished, but I have ended up with one of my 3 days of facial pain headaches, so my plans for finishing on the weekend were thwarted. It should happen early this week, though, and I plan on taking some pictures to share.
4. Start a weekly binder for each of the 2 children. Not done. Only because I scratched the binder idea. I did make a plan of attack, though (so this goal should probably be marked as done) and I will be sharing what we plan on doing over the next 6 or 8 weeks, soon. It's likely something that I can work on typing out which my head is recovering. The only way I can function is if I don't move, so blogging and facebook is about all I can do.
5. Drink water. Done. Except for yesterday, because I was feeling too ill and I paid for it last night by feeling especially dizzy and nauseous. Opps.
6. Blog three more times this week. Partially done. I have a number of partially written posts done, but I only posted two and they were both memes. Which, while awesome, don't really count towards my actually creating something.
This week's goals.
1. Write at least one post that is not a bloghop/meme. 
2. Drink water. I can probably add even more to my day.
3. Stretch our food to last an extra week, while still preparing nutritious food. There's a bag of chicken nuggets in the freezer that are looking especially temping. We have carrots and onions, too. I wonder how many meals I can make out of them. Ideas? (silly Mommy thought we'd be able to do lots of carrot, onion, potato roasts, but it is much too hot for that) I have zero interest in eating, but my husband expects food……..hmmm.
4. Check out the Science of Gastronomy course on Coursera. Mike wants to take it, but has no time, so guess who might be taking it instead! It looks interesting enough and I think at some point it will teach us how to make a perfect steak, and just that is worth it!
5. Read, read, read. For myself. To Ruadhan. With the big kids. I really, really miss reading, especially with the big ones. Ruadhan hasn't quite made it to the point of being able to sit though a chapter or two, while he loves little books. I think the more we make it part of our days (especially reading chapter books aloud), the sooner the little one will accept that it is just something we do.
6. Go to bed early. I need it. I've had several signs pop up that I am not getting near enough sleep for my body, but with Mike getting home at 10pm isn't easy. He expects me to stay up and keep him company while he eats and he usually wants me to watch a show or two with him and I don't get to bed before midnight most nights and then get woken again when he comes to bed. Figure in nursing, and there are few too hours in a night and I really felt best when Mike was away and I was going to bed at about 9:30. Mike may have to get used to lonely evenings or he is going to end up with a household that is functioning as it should.
7. Plan at least one summer(ish) activity with the kids. I'll admit that facebook is depressing me lately. We really don't do ANYTHING. No beach. No fair. No hiking. No traveling. No visits. We are just here. I might get just a week bit jealous. I'm finding the isolation even harder now that Mike is here, but busy all the time. We really are in the middle of nowhere. Thank goodness that we have a good neighbour that I can wave at from time to time! I have no idea what we will do, but we need to get outside for a bit and see the light of day.
I hope that you'll join me over at Debbie's Digest and set some goals of your own.