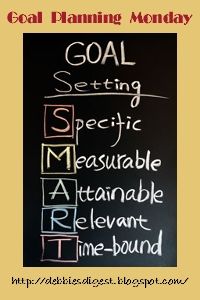 I'm a little late this week as yesterday was a holiday here and Mike was off, but I still wanted to join in and do Goal Planning Monday, now hosted at Debbie's Digest. It seems to help me get things accomplished when I do post my goals here. Considering how I've been doing, though, I don't want to know what I'd be up to if I didn't post my goals! That being said, I am still satisfied with my week. Here is how I did:
1. Continue to stay away from Facebook, besides to post links to my blog. Done! I stayed away as much as I wanted to. I checked in on a couple of people, answered a couple PMs, and visited a couple groups very briefly. This may be the way to go about using facebook wisely. There were a couple cute things during the week that I thought would make fun status updates, but yeah, facebook may be overrated. I will likely be back soon(ish), though
2. Exercise at least 4 times a week. Partially done. I tried to do a little bit every day, but as it wasn't terrible strenuous or anything I'm giving it a partially done. I can definitely do better and plan on doing so. 

3. Work with Liam on Homeschool Programming at least 3 times a week. Done. This was easy. I think we did it at least 4 days, if not every day, last week. I look forward to sharing a review with you all soon. We both really like it so far and will definitely continue it after the review period.
4. Go to be early (by 10pm) at least twice this week. Not done. It just isn't going to happen. I really have given up on getting adequate sleep. The littlest one is still up soooooo much at night that going to bed an hour or two early isn't going to make that much difference. 

5. Write in a journal every day. Not done. I keep thinking of things that I should/want to write, but I never dedicate the time to do it.

6. Do an all purpose clean up/organization of the house. Done. It's looking decently good, but with Mike off yesterday and working quite a lot with him on an online game database we are building, the house needs some work again today.
7. Work on a frilly scarf my sister started and left behind for me. Done. I didn't finish it, but I was able to figure out how to do it. I made Morgaine a small, different style necklace with some of the fabric because as I was going through it I noticed that they had knotted a section together.
This week's goals:
1. Be sure to make good use of all the things that we receive in our CSA (but not) box from Real Food Connections. I feel a little bit like a kid at Christmas and I am hoping that we get all kids of goodies tomorrow. We rarely get to Moncton and usually not on a Wednesday, but it worked out that this is our week to grocery shop and Mike's day off is on pick up day. I really hope that we are surprised and pleased with the basket (especially since I am hoping to get Mike to join up to a weekly CSA next year).
2. Make a blog post about our garden (or lack thereof). No wonder we have to depend on other local farmers! Certainly less successful than our raised bed gardens in Sydney Mines. The sad thing is, we are in the heart of farm country here so there is no excuse!
3. Cut down to two or fewer cups of coffee a day. I am over indulging for sure! Lack of sleep make me feel like I need coffee to function, but it likely isn't that good for me.
4. Check out the children's goals for the "first term" and make sure that we are still on track. We have made some minor changes and I need to reflect them somewhere as well. I might get good at this planning and teaching thing yet! We haven't been doing history very much at all, but I didn't have very clear guidelines set for that one. Opps.
5. Spend a fair bit of time on Coursera. I have three classes on the go right now and another (that I've previously taken, but have no completed, because of our sudden move) starting on the 22nd, so I really need to stay on top of things.
6. Make sure the house is cleaner in the evening than it was when I got up. I was doing this before Mike came and it was an easy, no stress way to feel like I was getting ahead in life. Eventually I should end up with a really clean house, right?
If you have set some goals for the week it is never to late to join me over at Debbie's Digest!