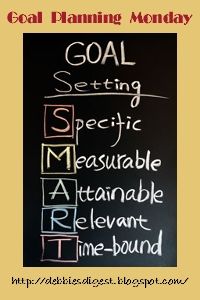 While it is probably alright for me to have taken it a little slow last week as I mourned the loss of our
sweet little Penny
dog, I have to say that I think I need to get back into the swing of things. I don't think it is just the loss that has gotten me down, as I mentioned, I think that I am likely struggling with at least a little bit of depression. I use feedback from others to judge whether I'm doing okay in life, but living out here in the middle of nowhere there isn't much feedback and if we have a bad day there isn't really a way to get out and change our mood. No escapes to the library to chat with the librarians. No walks around town or trips to the grocery store to choose something special for a pick me up supper. Yes, if I don't set goals, I probably won't get much done. I haven't even been very good at linking up to Goal Planning Monday because I haven't made it a goal!
So, yeah, I'm back for another week of goal setting and as I haven't posted in 3 weeks, I'm just going to start fresh with new goals for this coming week.
Household Goals:
Finish sorting clothes/sheets for donation. There is a family in need in the are and it always does my heart good to donate some things that we're grown out of.
Paint the master bedroom. We've been sleeping downstairs for most of the summer, but I'd like to move back to our room soon and figured that it would be best to do the painting that needs to be done before I move the bed back up.
Add at least 2 rows to the quilt I was sewing for Liam. It was the project I was working on the morning just before Penny's accident and I've had a hard time bringing myself to work on it, but the nights are getting cooler and he will need a quilt before long and it was going surprisingly well so it would do good to work on it.
Finish crocheting the shawl I started last week. It was my distraction last week and I am almost done, but I have a tendency to get to that point in projects all the time and then never bring them to completion.
Homeschooling goals:
Finish helping Morgaine sew her first real sewing project. I hope to get it done, but if we at least work on it, I will be happy. Remind me that is we ever need bias binding again that I should buy it instead of make it. It takes FOREVER!
Sit with Liam and discuss things again. He expressed concerns over his education today (not enjoying it….well, sometimes that isn't always possible….but I can strive to make it a little more interesting).
Sadly, most of his interest is in computers and I've decided that I need to limit it quite severely over the next week to see if it helps with motivation to work on other projects. I want him to use only 1 hour to work on his own programming and anything else will be with me/part of other homeschooling subjects.
Get in a couple more lessons in two items that have reviews due soon. We've enjoyed both of them and they should be good reviews to write and we shouldn't have problems getting a couple more lessons, but I need to write it down anyways these days.
Work on history….bah, they've lost interest (or rather, it's not a subject that they'll ask to do, but are interested when I actually pull it out….but I haven't been motivated to teach it and it's my favorite subject *sigh*)
Get at least two lessons done in science. I love the program that we are using, but Liam is suddenly less enthused about it. There are a couple cool chemistry experiments coming up that I think will catch his interest, especially since this evening he was complaining that we never do chemistry.
Write down what we do in a day. While Liam loved his daily planner when we got it, he's stopped using it over the summer and I can't seem to get him back into the habit. I haven't even looked into registering the kids in NB, so I'm thinking I should have at least something written down.
On that note, I do need to tell the Department of Education in NS that we've moved and send in a report for the last year. I think a little part of me hoped that we would find ourselves back in that neck of the woods.
Health and Fitness Goals
Have at least two dance parties with the kids this week. They are a sure way to get out some energy and maybe burn some calories at the same time. They are also FUN!
Continue to prepare for my Whole30 starting on Sunday. It's going to be a little intense, but I hope that preparing well before hand will help.
Drink a lot of water (just because I know I am not getting enough).
Take a long walk one afternoon alone. I don't remember the last time that has happened, but I think that a get away would be good and walking is the easiest way.
Writing/Educational (my education) Goals:
Write a post for Homeschool Horizons.
Write two reviews for Mosaic Reviews.
Write one post for this blog that is not a review or meme (I have a number started).
Start a post for Homeschool Mosaics.
Watch the first series of videos for my Think Again class on Coursera. I've done it in the past and already have notes so this is just a review.
Try to catch up on my Social Psychology class on Coursera. I will never be able to complete it and catch up on assignments as I didn't log in to Coursera at all last week, but I would like to get a close as possible so that it if it is offered again, I can then take it and do it to completion. I find it a  little sad that it's taking me two go through to get through these classes (thank goodness they are free!). I was a very good student and took a lot of pride in being smart and I struggle with never having the time I want to dedicate to studies. There are days I wonder if I was really meant to be a stay at home moon with little ones!
Other Goals:
Try to keep to focus on the family and not stress so much over my needs. I do think that if I focus mostly on them, that I will be happier. Most things I do (like my classes) are just extras because they aren't actually going to get me anywhere so there's really no need to stress over them.
Relax into sleep. I guess this is a health goal, but anyways.
Work on cutting back the night nursing in the three year old. It has gotten quite excessive in the past week and I am beat.
If you have goals this week, I really hope that you will join me over at Debbie's Digest to share them!