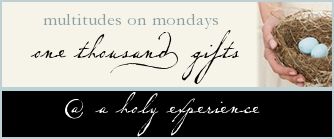 I'm behind on this one but it is such an important and wonderful challenge that I have to take part. I'm counting my way to One Thousand Blessings with Ann Vosckamp and many others this year (and HIGHLY looking forward to reading her book One Thousand Blessing: Dare to Live Fully Right Where you Are (I have some difficulty with that!))
1. Warm blankets to cover my toes on cold winter nights.
2. Stars in the sky.
3. A wee little girl that loves her wee little brother.
4. Snow storms where we can sit and watch from the inside.
5. Chocolate chip cookies to sneak as a treat.
6. The wind in the trees outside my bedroom window.
7. A warm little being snuggled up right beside me.
8. Relief from my facial pain and moments of rest.
9. Darkness and solitude.