I'm happy to be back participating in the TOS's Homeschool Crew's Blog Cruise. Each week we'll be posting about various homeschooling topics. This week, it's all about planning. What does homeschooling look like in your homeschool? Well, we are very much relaxed homeschoolers (some might call us unschoolers) but I do tend to plan things out in a subtle way. As I have another friend over at Free Learning Mama that posted about her fall inspiration through pictures, I thought I might do the same so that you can get a glimpse into what planning might look like for someone that homeschools without a fixed yearly plan. (I don't plan for much so I'm not even 100% sure I'll get this submitted in time for The Cruise, seeing as I have less than an hour to get it posted and have hungry kids to contend with, but regardless, ENJOY!)
Strategically placed books based on current interests. They are likely to be picked occasionally just because they are there and are changed out as need be.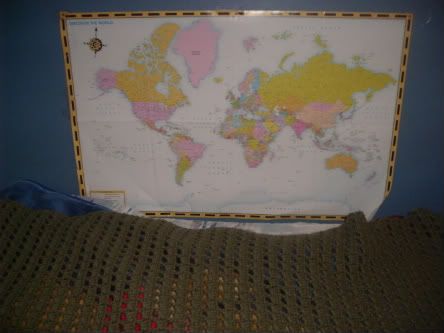 Map always inspire my adventurous son so we have several throughout the house. This is one over his bed so he can look at it in the evening and when he gets up.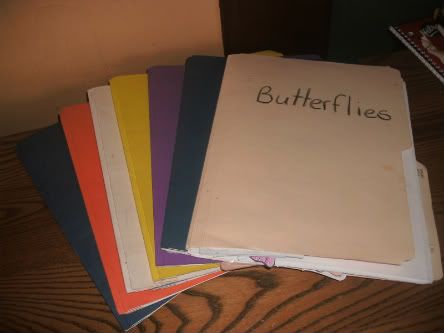 Colour coded workbooks. There's some basic information that I think they should know (things they'd likely learn in school) in them and the kids like the colours so are likely to pick them up and work on them or read the information. They are also easy to throw into the filing cabinet so that if I want to use the same material in a few years with the little kids then I still have it.
I also make sometimes not so subtle suggestions if I see some areas of education have been left out for quite a while (that doesn't happen a lot). I generally have a plan in my head about what I hope to see accomplished over the year and if things aren't moving in that direction the I something give things a little nudge (like this year a biggie for me is creative writing so I've taken out books, started writing myself, mentioned certain techniques and styles to Liam as we read and write, etc).
Be sure to check out the TOS Homeschool Crew blog to see how other homeschoolers plan their days, weeks, months and year!